Testimonials
Signet Home Inspections, LLC
Testimonials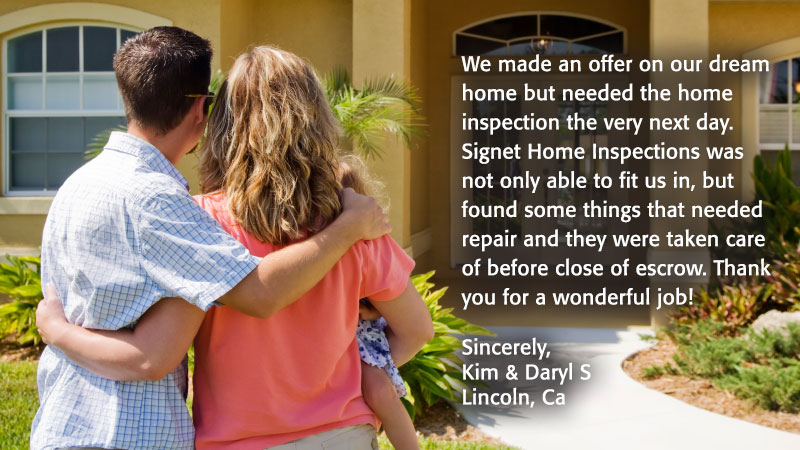 Signet Home Inspections was hired for a maintenance inspection on our vacation condominium since it remains unoccupied for months at a time. They actually found several electrical problem that resulted from the unit having been remodeled several years ago that could have eventually posed a problem if left unattended. We appreciate their great work, attention to detail and customer service.
Thank You,
Ginny F.
Kings Beach, CA
Kevin was a fantastic and communicative home inspector. He took his time, took tons of photos, and gave us a very thorough home inspection report. He was knowledgeable, friendly, and approachable and we felt like our home was in good hands. I highly recommend Signet Home Inspections!
Sincerely,
Roseann B.
Grass Valley, CA
We can not begin to express our gratitude to Kevin and Signet Home Inspections for the outstanding and professional assessment of our new home. We knew that we were buying a fixer upper and Kevin gave us the entire blueprint of exactly what needed to be done and in what order. The list is long and extensive and we are so grateful to know and understand exactly what this house needs to be brought up to 2015 building standards. We can not begin to share just how detailed and precise he was during his inspection. Additionally, Kevin was able to identify a very serious structural defect, that if left unrepaired, could potentially be life threatening. Our sincerest thank you for a job exceedingly well done. In these times it is indeed difficult to find someone who is so professional and goes the extra mile to ensure a five star job is completed! Our sincere thank you!
Best Regards,
Charlie and Julia D.
Nevada City, CA